Don't take our word for it!  Here are a few opinions from the Buckaroo Balance family.
I recently received one of the largest compliments of my life!  One of my clients, Leta, wrote her blog about ME!!!  Here's the link to check out what Leta has to say Herbs and Animals.
"Being comfortable on a horse, and being comfortable to and effective with my horse are two different
things. Christina and her balanced riding lessons have helped me and Lucky move and communicate better together. We are both "senior learners" whose progress is mostly limited by my skill level. Christina is able to see what is needed and move us toward working as a team in a way that makes my requests clear to Lucky. Being aware of how I am using my body and how it affects my horse's response is  just a small part of what Christina's knowing eye and encouraging feedback is teaching us. I know we are progressing because when I participated in a clinic with well known horseman Richard Shrake, he asked me who taught me to ride, and said I should send her a bouquet of flowers! That would be Christina! Christina's youth belies her depth of knowledge. Her enthusiasm is contagious, and it is so encouraging to see how far we have come with our confidence and communication. I am grateful to have her as a teacher and friend and look forward to our continuing journey."  -Lori & Lucky & Annie
"There's a LOT to like about Christina Savitsky. Sometimes it feels like she's ps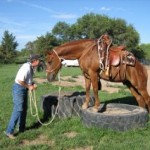 ychic when she can spot a little tension in the back, or the hips aren't moving and she gently asks you to relax your back or feel the hips move…amazing!  But then again one of her jobs is to manage/coach the therapeutic riding program which gives her an awesome perspective on riding and moving.   Her communications are always positive, never condescending or scrutinizing…she just has a super joyous way of communicating with people! And because she spends hours in the saddle working on her ranch, she has even more perspective on body movements.  Spending private lesson time or clinic time with Christina is simply something that should not missed!"  -Donna & Peppy, Christina's FIRST regular client!
"I attended a clinic in October with Christina that taught us about our natural balance and how to obtain an independent seat in
our saddles.  Before this class, I was all over the place in my seat positions.  I was so discouraged when I rode that it was an effort to ride.  I put way to much thought and effort into my riding, that it just wasn't fun, but after this class, I felt educated and enlightened on my seat position where I gained confidence that I wasn't going to be thrown from my saddle every time my horse went right or left.  Christina made it so easy to understand about what each of us needed to accomplish and where our bodies were when riding and how to correct our balance to be successful.  Christina had us apply some Yoga techniques on the ground and in the saddle, WOW!  What an eye opener as far as where your body leans and twists both on the ground and in the saddle.  These techniques really made you aware of where you needed to be in your seat position, naturally!  Christina gave us the tools to apply what we, individually, needed to accomplish to become a better rider.  I would recommend a lesson from Christina or attend a clinic.  You will not be disappointed, but most of all, neither will your Horse.  He will thank you in the end!  I know mine does every time I ride him!     Happy Riding!" -Sandy & Cody
"My Perfect Horse class gave me the tools and confidence to purchase my first horse. I know I would not have waited to find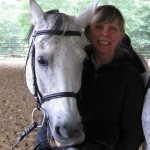 the "right" horse if it was not for this class.  Instead of looking for the least expensive or the prettiest horse, the class taught me to determine what I really needed in a horse and this helped me focus my search.  The set of materials that were provided were invaluable when the time came to interview horse sellers.  Having a detailed list of questions to ask saved a lot of time by eliminating several horses even before viewing them.  Now I am the very proud owner of a wonderful horse that is absolutely right for me. Thank you Christina!"  -Diane Morgan, My Perfect Horse graduate